Liverpool's Scandinavian community prays for Norway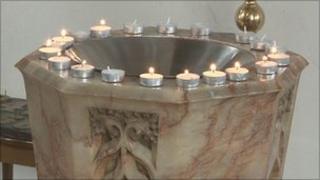 Members of the Scandinavian community on Merseyside have lit candles and said prayers for the victims of the car bomb and shootings in Norway.
At least 93 people were killed in the two incidents, in the capital Oslo and at a youth camp on a nearby island, on Friday.
Ninety six have been injured and others are still missing.
The Norwegian flag has been flying half mast at Gustaf Adolfs church in Liverpool.
Norwegian Anders Behring Breivik, 32, has admitted carrying out both attacks, which he described as "gruesome but necessary".
'Just terrible'
Mette Royden, from the church, said people could not believe what had happened.
"It is just impossible to fathom that anybody could do that to their own people," she said. "It is just terrible."
A book of condolence will be opened at the church on Wednesday.
The church was built in 1883 during a period when many immigrants from Scandinavia arrived in Liverpool, at a time when the city was a major port.