Vauxhall re-introduce apprenticeships at Ellesmere Port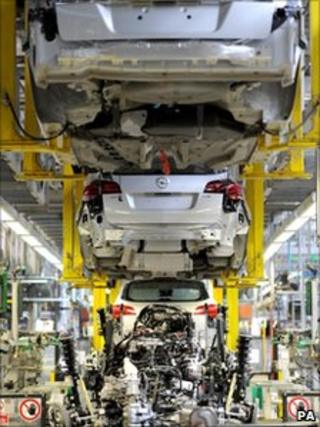 Vauxhall's Ellesmere Port plant has re-introduced its apprenticeship programme as production increases.
Vauxhall had ceased its apprentice intake in 2008.
The Sector Skills Council for Science, Engineering and Manufacturing Technologies (Semta) has warned car manufacturers faced a skills gap as existing engineers retire.
The industry body said more than £1 billion has been invested in the UK car industry in 2011.
West Cheshire College, which runs Vauxhall Ellesmere Port's apprentice programme, has opened a new science and technology campus in Chester with specialist teaching facilities.
The course will start taking new students from September. Apprentices spend four years on the scheme training at Ellesmere Port.
Development and experience
College Principal Sara Mogel said: "Vauxhall are looking for a multi-skilled flexible workforce, they put a lot of time into working with us.
"It's quite well established, we've been running apprenticeships for a very long time in all the different guises over the years.
"It's a real good mix of skill development and experience at work, and proper employment experience.
"These people are employed by Vauxhall, they're paid by Vauxhall. They're not playing at this, they are working at Vauxhall.
"We run their apprenticeship scheme, we also run upskilling in-house training for them. We basically do whatever Vauxhall want us to do."
Apprentices spend the first year mainly in the college and next three years they work and train at the Ellesmere Port plant, spending a day a week in college.
Rob Parry, an apprentice coming to the end of his scheme, said: "We're quite lucky in a sense that we've got Vauxhall local to us.
"Not many companies take on apprentices, but they see it as an investment for the future. At the end of the day they need skilled employees to do the job."
"At one point Vauxhall had to stop recruiting apprentices, now from this September they're recruiting again," Ms Mogel said
"That's a real advantage for young people living in Wirral and West Cheshire.
"By the time they're finished at the end of four years they're very experienced maintenance engineers."
'Skills gap'
Semta said the car industry is at risk of a skills shortage as the UK's car industry expands after the recession, with a quarter of firms struggling to take on skilled staff.
Semta figures suggest 18% of firms involved in the car industry in the north west of England are experiencing a skills gap.
While Ellesmere Port produces the Astra, the nearby Toyota plant in Deeside makes the hybrid Auris engines and Jaguar Land Rover in Halewood is building the new Evoque.
While these three plants employ more than 5,500 people between them, there are many other smaller businesses who supply parts and materials to the plants.
Wallasey School in Wirral is offering a manufacturing diploma to pupils to prepare them for a career in the car industry.
Students on the course spend two days at Jaguar Land Rover.
Year 8 pupils at the school will be visited by representatives from Vauxhall in October who will talk about a career in car manufacturing.
Helena Rice, a science teacher at Wallasey School, said: "There is this perception from students that manufacturing is a really dirty archaic profession to go into, but it's very high tech and requires highly-skilled personnel.
"A number of managers have come through the apprenticeship scheme, they haven't had to get into student debt to get them through the university route."
In 2006 Vauxhall ended its third shift at the Ellesmere Port plant which reduced the plant's capacity by about 60,000 units a year. The plant is now increasing production and is back up to two and a half shifts.
Almost 100 contract workers were taken on in the press, body and paint shop in November 2010.
Ellesmere Port is now in the running to be the European production centre for the new Ampera hybrid hatchback. A decision on whether the car will be built at the Cheshire plant will be made in the next 12 months.