Olympic boxing hopefuls start training in Liverpool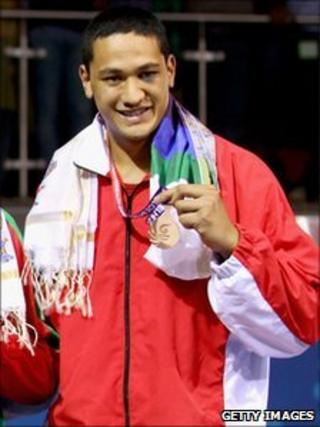 Boxers from Tonga are training in Liverpool as they prepare to take part in Olympic Games qualifiers.
The boxers are using the city's Lifestyle Fitness Centres as part of their preparations for the 2012 Games.
Athletes from Oceania countries have confirmed they will use Liverpool as a training venue for the London Olympics.
It is hoped a deal with the Oceania National Olympic Committees, which include Fiji and Palau, will also take in the 2014 Glasgow Commonwealth Games.
Liverpool Aquatics Centre in Wavertree will be the main base used by sportsmen and women ahead of the London Games.
Three boxers from Tonga and a coach are training in Liverpool's Lifestyle Sports Centres in preparation for the Olympic qualifiers in Azerbaijan in September and the Commonwealth Games qualifiers in the Isle of Man.
Damian Ridpath, Liverpool City Council boxing development officer, said: "There was an invitation put out last year by the North West Development Agency as part of the Olympic Games Legacy to specific nations to come to the north west of England.
"I was asked to put a proposal together for boxing and the Tongan nation took it up.
"While they are here they are effectively full-time athletes, they'll train two or three times a day. Back home they'll train three or four times a week.
"They don't have access to the type of facilities we've got here in England. While here they have access to lots of the sports centres as well as the boxing gyms."
'Just awesome'
Tongan super-heavyweight boxer Junior Fa said: "The facilities here are great, when you come from a small country and come here it is top notch.
"All the gym equipment, the swimming and all the training with great coaches here is just awesome.
"We have to train hard and work hard to get what we want. By the end of this year I'll hopefully have qualified to go to the Olympic Games."
Mr Ridpath said he was sure the legacy of the Olympics would be a lasting one.
"The Olympic Games in Britain is a massive thing, in the next 12 months it's going to provide a legacy for the next 20 years for our young people.
"They're going to be inspired by what they see, inspired by many athletes of all different sports, and they'll want to have a go themselves.
"Next year there will be an explosion in sports clubs of kids wanting to try stuff, that's the future."
Liverpool boxer Natasha Jones, who is also aiming to compete in the London Olympics, said: "When I'm at the GB camps I do realise how much of a boxing city Liverpool is.
"A lot of the other girls don't get the press coverage and the support that I do from Liverpool. I do realise how far ahead we are of other cities.
"It means everything to qualify, it's in London so obviously all my family can get there, a lot of them have applied for tickets, so I've got no choice than to be in it.
"It means a lot, it's the height of everyone's amateur career to be an Olympic champion."