Liverpool's first Indian music festival gets under way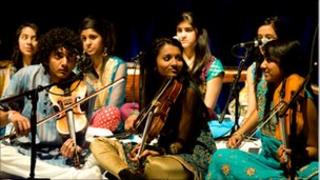 Liverpool's first Indian music and performing arts festival has begun at the Capstone Theatre.
The five-day Music India 2011 event features performances from classical Indian musicians playing alongside contemporary artists.
Performances will include traditional Indian music fused with jazz, Irish folk, electronica, blues and pop.
The event, organised by Indian and Asian-based arts organisation Milapfest, runs until Saturday.
The director of development at Milapfest, Alok Nayak, said: "Classical Indian music has a very universal appeal. It has something for everyone to enjoy and there is no language barrier.
"You can appreciate the emotion, the moods of the music, and that is why it can connect with people of all ages and all backgrounds.
"Even mainstream music like [that] featured in Slumdog Millionaire is very much rooted in Indian classical music.
"You will hear some of those tunes, some of the rhythm patterns, and it's all part of Indian music.
"Instruments like the sitar and tabla, the connection with Ravi Shankar and the Beatles. The tabla is now a part of many world music styles."