Liverpool's Everyman Theatre auctions seats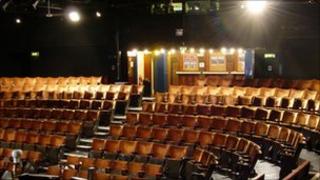 The Everyman Theatre in Liverpool is auctioning seats and benches from the auditorium and pillars from the original Hope Hall chapel.
Over 60 lots are being auctioned between Thursday 28 July and Monday 8 August.
The theatre on Hope Street closed for a £28m redevelopment earlier this month.
People are asked to submit sealed bids for each item, stating the price they are prepared to pay. The items will be sold to the highest bidder.
Deborah Aydon, executive director of Everyman and Playhouse Theatres, said: "Many people have expressed a wish to have a memento of the old building as it makes way for the Everyman's new incarnation.
"All funds raised from the auction will be used to make the new Everyman a really special place, so we hope for a great response."
The Everyman opened in 1964 and helped to launch the acting careers of Jonathan Pryce, Julie Walters, Bill Nighy and Pete Postlethwaite.
Occupying what was previously a cinema and chapel Hope Hall, the theatre was partly rebuilt in the 1970s.
New bistro
The redevelopment programme will see the theatre completely rebuilt into a 400-seat venue.
The attached Everyman Bistro will be included in the new theatre, which will open in 2013.
The revamped venue will include a dedicated space for the Everyman Youth Theatre which has previously been attended by Ian Hart, Stephen Graham, David Morrissey, and Cathy Tyson.
The redevelopment is being funded by Arts Council England, Northwest Regional Development Agency and the European Regional Development Fund.