Warrington Residents return home after garage fire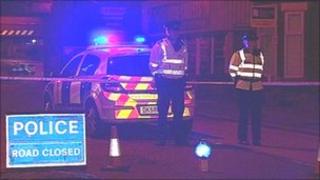 People living near a fire at a garage in Warrington have been allowed to return to their homes.
Three hundred homes on Marsh House Lane in the Padgate area were evacuated after the blaze broke out at about 17:00 BST on Tuesday.
A 200m cordon was set up amid reports there were acetylene cylinders inside and fears that they could explode.
The cordon was later reduced but about 20 families had to spend the night away from their homes for safety reasons.
The position of the garage under the railway line between Liverpool and Manchester led to trains being suspended for several hours.
Alternative services were provided for travellers and the line reopened at about 21:50.
Investigations into the cause of the blaze are continuing.