OMD to headline Eric's opening night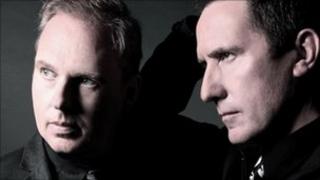 Legendary Liverpool nightclub Eric's will return in September with a special gig headlined by OMD.
The club on Mathew Street reopens on 10 September with a performance by the Wirral electropop band who played their first gig at Eric's in the 1970s.
The venue, originally open between 1976 and 1980, has been transformed from a beer cellar back to a live music venue.
In the 1970s it played host to emerging bands including Echo and The Bunnymen, The Clash and Elvis Costello.
Ethan Allen, musical director of the new Eric's said: "OMD are one of the legendary leaders in electropop.
"They are coming back as part of their current world tour to play Eric's because they say without Eric's there would be no OMD."
But Mr Allen says he has encountered negativity since announcing the headline act.
"Half the people want someone who has played there before to give it the credibility and half the people say they don't want anything from the past because it is just going to be a tribute place," he explained.
"OMD are still making records and it is a real coup for the venue because last time they played Liverpool it was at the Arena."
And reopening the club as Eric's 30 years after its closure has also met resistance from people who were there first time round.
"A lot of people who went to the venue have a sense of ownership because they were part of something," he explained.
"Obviously it's not going to be the same as what it was because times have changed.
"People need to realise that they've changed too. Half the punks that went there at that time are claiming child tax credits and have got proper jobs now."
New music platform
Eric's will reopen yards away from The Cavern Club which was rebuilt in 1984 after being demolished in the 1970s.
"The world is a very different place," Mr Allen continued.
"What we are trying to do at Eric's is give a platform to many different styles of music.
"If we'd have done this in the late '90s every band would've sounded like Oasis. If we'd done it in the early '90s every band would've sounded like the Happy Mondays or Inspiral Carpets.
"When it was the '70s the punk scene exploded. Now there is a big, big change in live music. There is a lot of different diverse acts out there and that's what we're going to reflect.
"Because we are looking at it as a live music venue and my job is to put on interesting live music that have credibility in their chosen field and have talent.
"I'm not here to judge, I am here to give them a platform.
"If they can play well and they've got a crowd that's going to see them we'll put them on."