Historic River Mersey ship reopens to public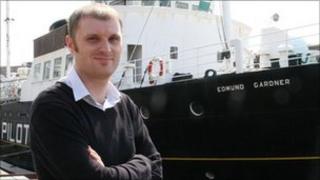 A ship that was like a "gentleman's club" for river pilots will reopen to the public after five years.
The Edmund Gardner provided a sea base for River Mersey pilots between 1953 and 1981 who lived on board to help incoming ships navigate the Mersey.
The pilots would board the incoming vessels and use their extensive knowledge of the river to guide them in and out of the Port of Liverpool.
It was closed in 2006 due to work on the waterfront development programme.
Curator of Port History at the Merseyside Maritime Museum Ben Whittaker said: "The Edward Gardner was a base at sea for the local river pilots.
"The River Mersey can be very hazardous because of the tides and the currents and the shifts in sandbanks, so the Edmund Gardner was based at the mouth of the Mersey at the Mersey Bar.
'Gentleman's club'
"In the 1960s, in the Edmund Gardner's heyday there was 180 river pilots.
"It was almost a gentleman's club for the pilots because they would spend a lot of time onboard relaxing and waiting for a ship to come for their services."
River pilots are still needed today to guide ships in and out of the river and around 40 are currently based on land.
"Liverpool is still a big port with lots of imports and exports," Mr Whittaker said.
"The system has changed so now the pilots are transferred directly from shore to the incoming ships by small high speed boats.
"The Edmund Gardener is a piece of Liverpool history because the old system of having a ship at sea is no longer there."
The tours take place between 4 August and 1 October 2011 at the Canning graving dock, Liverpool.