Merseytravel chair criticised over expenses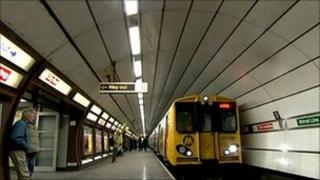 Merseytravel's chairman has been criticised for claiming expenses from the authority to attend several Labour Party conferences.
Labour councillor Mark Dowd used the authority's credit card to pay for the cost of visiting the event.
Merseytravel has said he was lobbying MPs on behalf of the organisation.
Councillors Andrew Makinson and Chris Blakeley have referred his expenses claims to the Audit Commission and are calling for him to consider resigning.
The Audit Commission is now considering whether or not to investigate.
The details of Mr Dowd's expenses claims were uncovered under the Freedom of Information Act and showed he had made claims to cover Labour Party conferences since at least 2004.
'Openness and transparency'
Mr Makinson, Liberal Democrat Group Leader of Merseytravel, has asked why he went to the Labour conference last year when they were not in government.
He said: "Why did he feel the need to go to the Labour Party Conference last year when Labour weren't in government?
"There certainly weren't any Labour ministers for him to lobby.
"In fact last year there was the Liberal Democrat conference in Liverpool with Liberal Democrat transport ministers for him to speak to and he didn't bother to attend."
Mr Blakeley, Conservative Group Leader of Merseytravel, has said it was an "inappropriate use" of public money.
He said: "I haven't got a problem with him attending conferences, but I was absolutely shocked and appalled when I found out that we, Merseytravel, were paying it out of public money.
"I think Councillor Dowd really needs to look at his actions and he needs to make that decision.
"I think there has been an inappropriate use of public funds, that is my view, and I believe he needs to look at that and think, have I done the right thing, have I done the wrong thing and do I need to step down."
He added: "I think in the interests of openness and transparency it might be the wise thing to do."
Mr Dowd, who is attending the Conservative Party conference this year for the first time, declined to comment.
A spokesman for Merseytravel said: "There is nothing unusual or anything to hide in Councillor Mark Dowd attending either a Labour or Conservative Party conference on behalf of Merseytravel.
"He uses the conferences and fringe events to discuss with MPs and ministers issues concerning the people of Merseyside."