Double-VC medal hero Noel Chavasse memorial unveiled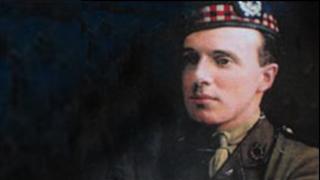 A memorial to one of Britain's most decorated soldiers has been unveiled in Liverpool city centre.
The contemporary structure, in Chavasse Park, honours Capt Noel Chavasse who was awarded the Victoria Cross, the highest military medal, twice during World War I.
The Liverpool surgeon and army officer won his first VC in 1916 and a second, posthumously, a year later.
Capt Chavasse's great nephew, David Watson said: "It is something of great pride and treasure, and we feel that as a family and obviously Liverpool feels that as a city which is fantastic.
"He seemed to have an amazing relationship with his men and with his colleagues.
"He would go out into the fields between the lines of troops.
'Difficult struggle'
"He was actually out there helping the troops and he would go out with the stretcher bearers who were obviously very important and he would tend to the injured."
The memorial is the second in Liverpool to honour Capt Chavasse.
A bronze memorial to the soldier, along with 15 other Liverpool men awarded the Victoria Cross, was unveiled in Abercromby Square in August 2008.
Mr Watson says he hopes the new memorial will help remind people of the sacrifices soldiers made in World War I.
"More and more people are interested in the story of the first World War," he said.
"It was an amazingly long and difficult struggle which the whole nation had to contribute to and I think that is why people find it inspiring and remember it."
Capt Chavasse died on 4 August 1917, at the age of 32, and is buried at Brandhoek New Military Cemetery in Belgium.