Maghull benefits cheat seen playing golf in Lancashire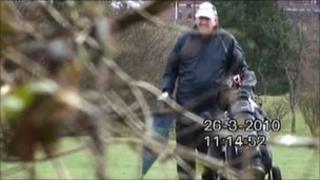 A benefit cheat who claimed he could not work because of arthritis in his hands was caught when secret footage captured him playing golf.
Peter David Crowder, 50, from Maghull, Merseyside, claimed Disability Living Allowance worth £20,217 between October 2006 and September 2010.
He admitted failing to declare a change of circumstances and making a false statement to obtain benefits.
His case was adjourned at Liverpool Magistrates' Court until 25 August.
District Judge Miriam Shelvey warned him that the offences could carry a custodial sentence.
The court heard how Department for Work and Pensions (DWP) investigators carried out covert surveillance on Crowder, of Parkbourn Square, following an anonymous tip off.
Golf competitions
He was seen driving, chipping and putting golf balls at Hurlston Hall Golf and Country Club, Lancashire, where it is understood he had been a member since 2006.
Club records showed the former psychiatric nurse at Ashworth Hospital attended the club 151 times between 4 April 2009 and 28 May 2010.
The court heard he retired from his job on medical grounds claiming that he was suffering from rheumatoid and osteoarthritis and had "problems" with his hands and feet.
He was seen in the footage unpacking a golf trolley and pushing it around the 18-hole golf course.
The DWP investigations also showed that he played in 49 golf competitions between 1 January 2007 and 17 March 2010 with club score cards showing that he played with handicaps of 26, 25 and 23.
Minister for Welfare Reform, Lord Freud, said: "It's cases like these that show us why welfare reform is needed. We have a duty to the taxpayer and our customers to make sure that these vital benefits only go to those who need them.
"Benefit fraud takes money away from the most vulnerable.
"It is a crime and we are committed to stopping it by catching criminals at the front line and making sure our reforms make the benefit system less open to abuse."