Hundreds of dead fish found in Walton Hall Park lake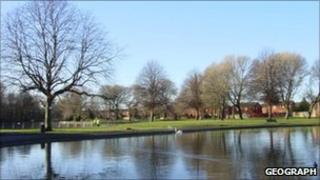 Hundreds of fish have been found dead in a lake in a Liverpool park.
Angling has been suspended at the lake in Walton Hall Park after the fish - including carp, roach and tench - were found on Wednesday and Thursday.
The Environment Agency said there had been many similar incidents around the country.
It is believed current weather conditions have led to an increase in organisms taking up more oxygen from the lake than usual.
Liverpool City Council said the fish were being removed.
Members of the public are being asked not to remove any of the dead fish or take live fish from the lake while investigations into the incident continue.