New Liverpool monastery will be 'biggest in Europe'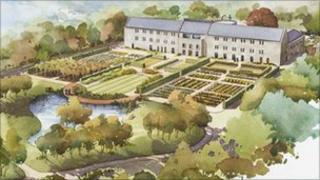 Work has started on a purpose built Roman Catholic Carmelite monastery in Liverpool which the Carmelite Order says will be the biggest in Europe.
The £3m eco-friendly convent in Allerton will be home to the Carmelite Sisters who are relocating from West Derby after 104 years.
The nuns say their current convent is no longer a peaceful retreat due to the expansion of two neighbouring schools.
The order of 30 nuns are expected to move to the new building in mid 2012.
The Prioress Sister Mary said: "Whilst West Derby has been our home for over 100 years and we will be sad to leave, we felt it was time to move to a location which will be more compatible with our way of life.
"For example the new monastery will allow us to be much more energy efficient and the gardens will also enable us to be self-sufficient whilst protecting the local habitat."
'Rainwater harvesting'
In April 2010 the nuns applied to Liverpool Council to relocate after a link bridge was built between neighbouring Cardinal Heenan and Broughton Hall schools.
The application stated: "The current site was previously positioned within a semi-rural setting.
"However, since the 1980s, the area has become increasingly urban with residential properties immediately abutting the Sisters' garden, which is used as a place of prayer and reflection, and the adjacent schools creating noise and elements of anti-social behaviour which is at odds with the Sisters' way of life."
At the time Sister Mary said: "The development of the school is really very dear to our hearts, and we've been praying for it for a very long time.
"It is difficult to stand here and raise objections, but we are fighting for our survival."
That plan was approved with a condition that a special body would be set up to ensure they were not disturbed.
The new eco-friendly building, which feature solar panels, ground source heating, and rainwater harvesting, will take 15 months to complete.
More than 1,500 trees and a new wildflower meadow will be planted on the Maryton Grange site on Allerton Road.