Liverpool Pride march led by Michael Causer's parents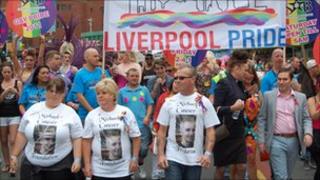 The parents of a gay teenager from Merseyside who was murdered three years ago have led Liverpool's Pride march.
Hairdresser Michael Causer, 18, from Whiston, was attacked at a house party in Huyton on 3 August 2008.
His attacker was jailed for life the following year and denied it was a homophobic attack.
His parents, Marie and Michael, led the march around Liverpool City Centre, which organisers chose to hold around the anniversary of their son's death.
Organisers say more than 2,000 people had taken part in the march, part of the Pride festival that celebrates lesbian, gay, bisexual and transgender communities throughout the region.
Mrs Causer described the march as a celebration but added: "I just wish Michael was here to party because he would have been so excited.
"It's tinged with sadness but happiness as well."
Liverpool City Council is expected to approve plans to create a gay quarter in the city next week.