Liverpool FC to reduce tickets for Manchester Utd fans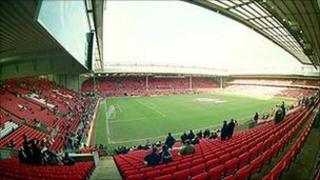 Plans to reduce the number of tickets allocated to Manchester United fans when their team play at Anfield have been approved.
The reduction was approved by Liverpool City Council's licensing committee following safety concerns about away supporters standing in gangways.
The number of available tickets will be cut from more than 3,000 to 1,965 for the game on 15 October.
The decision will be reviewed annually by the head of licensing.
The issue was raised at a meeting of the Ground Safety Advisory Group which heard, in spite of efforts of stewards to reduce standing, the gangways could not be kept clear throughout the last game in March.
More Liverpool fans
A Liverpool City Council spokesman said: "The city council has agreed to reduce the permitted number of tickets that can be made available by the Club to the visiting supporters of Manchester United for the 2011/12 season.
"For the coming season, 1,965 tickets will be made available compared with 3,015 for last season.
"This decision will be reviewed on an annual basis by the head of licensing, in consultation with Liverpool Football Club.
"It will also be looked at if Manchester United are drawn with Liverpool FC in any future cup matches.
He added: "This decision has been reached following consideration by the Local Authority Ground Safety Advisory Group and the Licensing Committee of the relevant national guidance, previous games between the clubs and evidence from the Liverpool v Manchester United game of the 6 March 2011.
"The decision was taken to address the safety concerns caused by Manchester United supporters standing in gangways."
Andrew Kilduff, from Stretford End Flags, said it seemed to be a way of getting more Liverpool supporters into the ground for matches with rivals Manchester United.
"The main disappointment comes in that Liverpool have said they will sell the empty blocks of seats to Liverpool fans, which I think is terrible really," he said.
"I think those seats should be left empty, which would help with the issue of standing as it gives more room for the fans who are standing to move into unallocated seats."
"Clubs like Sunderland will keep seats which are meant to be for the visiting supporters empty to help with the situation. Other clubs don't sell the end two seats on aisles.
"I think the key now is for Manchester United fans to be made aware of what the impact of standing in the aisles is, and to co-operate with stewards in the future."