Liverpool riot clean-up helped by Facebook group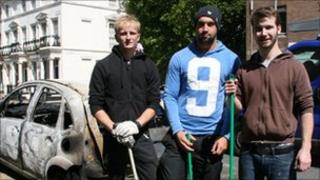 About 100 people have helped clean up after riots in Liverpool - in an operation co-ordinated on Facebook.
Organiser Charles Jupiter-Gannicliffe, 21, said he wanted to help in the aftermath of the disturbances.
Together with scores of people who had volunteered after seeing his campaign online, he set about sweeping piles of broken glass and debris.
He said: "I saw people smashing up my home city and I thought: 'I wouldn't let my home get in this state why should I let my city'."
A supermarket even supplied the groups with brushes, shovels and binbags after hearing about their effort.
They then set about cleaning up the streets, starting in Smithdown Road in the Wavertree part of the city, before heading down Upper Parliament Street and Grove Street in Toxteth.
Their path followed the same route taken by the rioters on Monday night who wrought havoc by smashing bus stops and setting fire to cars.
It was as Mr Jupiter-Gannicliffe, a bartender in the city, followed the trouble online - via Facebook and Twitter - that he felt he needed to act.
He set up the Facebook page Liverpool Clean Up to bring the community together.
Mr Jupiter-Gannicliffe, from Allerton, Liverpool, said: "I put together the Facebook group to show that we are not going to lose faith and we are going to support Liverpool.
"I wanted to prove that young people in Liverpool can use social networking for the right thing.
"At 8 o'clock this morning I drove around to see where needed cleaning. At 9 o'clock we met outside the Asda on Smithdown Road.
'People got involved'
"We've come across cars, burnt out and melted to the floor, glass, bus stops smashed.
"Asda on Smithdown Road gave us free brooms, shovels and bin bags and the Co-operative have been giving us drinks. Loads of people have stepped up to it and got involved.
"If it happened every day for a month I would be here.
"We'll just keep going until it is all gone."