Merseyside riots: Violence 'almost unprecedented'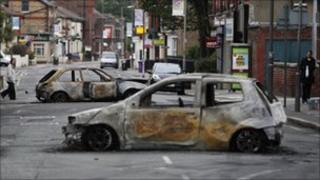 Merseyside's police chief Jon Murphy has said officers faced almost "unprecedented violence" against them on a second night of rioting.
Hundreds of youths gathered in south Liverpool on Tuesday night and roamed from Toxteth to Wavertree, causing disorder and criminal damage.
There were stand-offs with police on Smithdown Road and incidents of trouble in Bootle and Birkenhead.
Fifty people - more than half of them teenagers - were arrested.
Merseyside Police said 48 men and two women, aged between 14 and 52, were held.
They were questioned on breach of the peace, five for burglary, one drunk and disorderly, one handling stolen goods, one possession of a controlled drug, and one possession of an offensive weapon.
Eighteen people have so far been charged.
The violence on Merseyside erupted when a crowd attempted to smash into a cash machine with a mechanical digger in Bootle.
Smithdown Road and Lodge Lane were closed at about 22:30 BST and people were told to avoid the area, after large gangs of youths caused mayhem on the streets, torching cars and damaging property.
Four fire engines had to be taken out of service after they were damaged by missile-throwing youths in Lawrence Road in south Liverpool.
A gang of youths tried to break into the Asda on Smithdown Road but were contained by police.
There were reports of shops, pubs and cars being damaged in Birkenhead, with up to 100 youths wrecking vehicles in the Park Road South area.
Damage was also caused to shops and windows in Grange Road, including the entrance to the Pyramid shopping centre.
The force's Chief Constable, Jon Murphy, said it was the result of the actions of a small minority and vowed to track down and bring to justice.
'No excuse'
He said: "There have been almost unprecedented levels of violence shown towards my officers over the last two days.
"I am incredibly proud of their bravery and the way in which they have responded to incidents in very challenging circumstances.
"I and my officers remain absolutely committed to tackling any further outbreaks of disorder robustly to ensure the safety of our communities. To this end, we will continue to work closely with all our partners."
Officers are now viewing CCTV from across the affected areas and more arrests are expected.
Anyone with photographs or footage of the offenders is being urged to email them to police.
Paul Brant, from Liverpool City Council, said parents need to think about where their children are when the rioting is going on.
"We as a city, and indeed we as a country, need to ask ourselves what is going wrong with the way some of our young people are behaving," he said.
"Parents and grandparents and families need to know where those young people are - there is no excuse for a 14-year-old being out on the streets at 2 o'clock in the morning.
"If the parents do not know where their young people are then frankly the parents are part of the problem here."