England riots: Lawrence Road in Liverpool returns to normal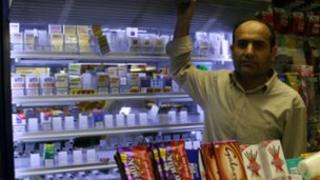 At first glance, it seemed the day was starting much like any other week day morning.
Shoppers queued to buy bread at the local bakery while others carried bags of washing into the launderette.
However, in Liverpool's Lawrence Road, the previous night had seen some of the most shocking scenes of violence in the city for a generation.
Two cars had been set on fire and shop windows were smashed by marauding gangs.
But on Wednesday morning, people in this normally peaceful road in Wavertree were determined to carry on as normal after a second night of disturbances.
They appeared to ignore the burnt-out shell of a car stranded at the side of the road and they stepped to avoid the workmen replacing glass in the shattered windows.
The shop belonging to newsagent Idres Majid, 37, bore the scars of the previous night's violence.
Its window was smashed, the front door broken in two and he had lost £4,500 worth of cigarettes - but he was determined to carry on.
Mr Majid said: "I'm open now. I will carry on with my business, I'm not afraid of these people. The community has to be brave."
He found out his shop was being raided when he got a call from the person who lives above his store.
"They tried to take the cash machine. I've never felt threatened here before - I want good relations with my customers.
"I will carry on with my business, I'm not afraid of these people. The community has to be brave."
One local resident, who did not want to be named, said he had tried to stand up to the rioters - and claimed many were not from nearby.
He said: "I'm the first person to get involved because I'm well known in the area. I'm six foot two and I'm happy to come out and confront people.
"I know a lot of the local lads round here. You know the families, you know the parents.
"What a lot of residents have noticed was that the lads aren't from round here. They are turning up to be part of the spectacle.
"They turned up in cars and congregated on Lawrence Road.
"The lads were aged from about 19 to late 20s and were in cars in their hoods. I said: 'Where are you from? What are you doing here? You're not from round here, go home'."
He says he has lived in this part of Wavertree all his life and says the area has a good community spirit.
'Not a ghetto'
"I don't want Lawrence Road to become like a ghetto. In the last few years the area has come up, it is quite cosmopolitan. Not all the shops have shutters and I like shops with no shutters, it shows an area is good.
"I'm not happy for other people to come into my area and destroy what little we have."
The resident, who was 11 during the Toxteth riots in 1981, says that young people in the area are not angry.
"The kids around here are fine. There is all kinds going on.
"The kids are so lucky now with the sports centre and tennis courts in Wavertree park. There's athletics tracks, there are the air cadets and the army and navy. There is so many things they can do."