Merseyside riots: Twenty-five men charged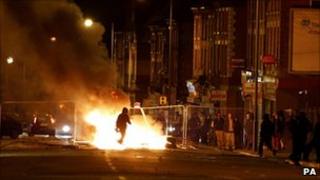 Twenty-five men have been charged following two nights of rioting on Merseyside on Monday and Tuesday.
Police said the men, aged between 15 and 42, have been charged with various offences.
One was charged with theft, one with possession of a controlled drug, one with a public order offence, and the other 22 with breach of the peace.
Police said that 19 other people, including two women, remain in police custody pending further questioning.
Two other men have been bailed pending further inquiries, while two more received a fine.
The charges followed a second night of violence and disorder on Merseyside on Tuesday night.
Police made the arrests in trouble which spread across Wavertree, Birkenhead and Bootle.
Petrol bombs
Four fire engines had to be taken out of service after they were damaged by missile-throwing youths in Lawrence Road in south Liverpool.
Eight people in Cheshire were arrested on suspicion of inciting disorder over comments posted on social media.
The violence in Merseyside began when a crowd attempted to smash into a cash machine with a mechanical digger in Bootle.
There were stand-offs with police in Smithdown Road, in the south of the city, with a group of up to 200 youths causing disorder and criminal damage.
There were reports of shops, pubs and cars being damaged in Birkenhead.
Chief Constable of Merseyside Police, Jon Murphy, said it was the result of the actions of a small minority and vowed to track them down and bring them to justice.
He said: "There have been almost unprecedented levels of violence shown towards my officers over the last two days.
"I am incredibly proud of their bravery and the way in which they have responded to incidents in very challenging circumstances.
"I and my officers remain absolutely committed to tackling any further outbreaks of disorder robustly to ensure the safety of our communities. To this end, we will continue to work closely with all our partners."
Police have urged anyone with photographs or footage of the offenders to email them.