Extra policing helps prevent repeat of Merseyside riots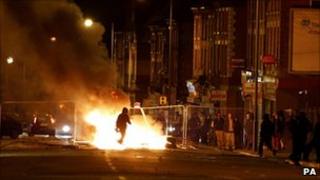 Drafting in extra officers and arresting anyone suspected of intending to commit crime helped Merseyside avoid a third night of riots, police said.
A total of 24 further arrests were made overnight for violent disorder, possession of weapons, drugs, burglary and car theft.
Police said they intended to publish CCTV images of riot suspects later.
Violence and looting spread across Wavertree, Birkenhead and Bootle on Monday and Tuesday.
Twenty-five men aged between 15 and 42, arrested earlier in the week, have been charged.
'Immensely proud'
Merseyside Police's Assistant Chief Constable, Andy Ward, said: "We had a significant policing operation out on the streets and I am pleased to say it was highly successful."
Heavy persistent rain across the city is believed to have helped deter rioters.
Mr Ward said: "There were no incidents of mass disorder or criminal damage and the arrests we made were the result of excellent proactive police work.
"Once again I have been left feeling immensely proud of the dedication and professionalism of my officers, who patrolled the streets and kept the public safe.
"I can assure the public that they will have the same level and quality of response in the days and nights ahead.
"I would also like to thank the vast majority of law-abiding members of our communities who listened to our advice to encourage young people to stay off the streets and out of trouble.
"It yet again reinforces our belief that we are dealing with a minority of criminals intent on senseless disorder, while the rest of Merseyside supports the emergency services in keeping their streets safe.
"The public have an important part to play in achieving this and I would urge everyone to look at the images in the media they will start to see from today and tell us who these offenders are and where we can find them so they can be brought to justice."
One of the arrests overnight was made in Hartington Road, Wavertree, where officers recognised an 18-year-old who they believed had been involved in Tuesday's riots.
Police said that 19 other people, including two women, arrested during the riots, remain in custody pending further questioning.
Two other men have been bailed pending further inquiries, while two more received a fine.