Liverpool Sailors' Home gates return to city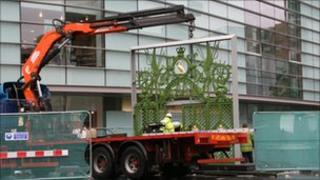 The former Liverpool Sailors' Home gates, removed 60 years ago, are back near to their original location.
The Grade II-listed cast iron gates on Paradise Street originally marked the entrance to the home on Canning Place, where the John Lewis store now stands.
Designed by West Derby-born Henry Pooley, they feature an early example of the Liver Bird motif.
The gates will be officially unveiled on 18 August as a memorial to merchant seamen who passed through the city.
They were returned to the city from the West Midlands after a campaign started by local historian Stephen McKay in 2008.
He said: "This is a great event for the city as it sees the return of a historic example of industrial design which combines engineering and art.
"It makes perfect sense to have the gates marking a spot which was so important to the creation of modern Liverpool.
"The foot traffic past the gates could not be any higher, so millions of people will see the gates and some will stop want to find out what they are about and why they are there.
"This is destined to become another iconic Liverpool landmark."
The gates, which feature nautical symbols including ship wheels and dolphins, were removed in 1951 after suffering bomb damage in World War II.
They ended up in Smethwick's Soho Foundry near Birmingham where they stood for 60 years before being returning to Liverpool in March 2011.