Liverpool's post-riot clean-up group meet Lord Mayor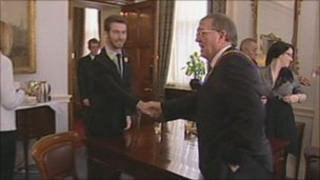 People who went onto the streets of south Liverpool to clean up after this week's riots have been praised at a meeting with the city's mayor.
Hundreds of people swept up piles of broken glass and debris from Smithdown Road, Upper Parliament Street and Toxteth on Wednesday and Thursday.
The operation was started by Charles Jupiter-Gannicliffe, 21, who set up the Facebook group Liverpool Clean Up.
Those involved were invited to Liverpool Town Hall on Friday.
Lord Mayor Frank Prendergast said they were all heroes.
"This has been an unsettling week for the city which has seen a minority of young, mindless thugs destroy people's property and businesses," he said.
'Love and pride'
"However, one thing they can't destroy is our spirit.
"Despite the negative actions of the week, the coming together of the city's community shone out and I was so proud of everyone who was involved - the real face of Liverpool was on display each morning.
"I would like to thank everyone who took the time to show the love and pride they have in this city.
"You are all heroes in my eyes and I couldn't be more proud of being Lord Mayor of a city where people go above and beyond to look after each other and their neighbourhoods."
Mr Jupiter-Gannicliffe said: "I was so shocked when I get the call that the Lord Mayor wanted to meet me.
"I never did any of this to get recognition - I just wanted to look after the city I love."
The Communities Secretary Eric Pickles has also praised the response of the emergency services and all those who helped with the clean up in Liverpool.
He passed on his thanks in a phone call to council leader Councillor Joe Anderson on Thursday night.