Merseyside riots: CCTV of suspects released by police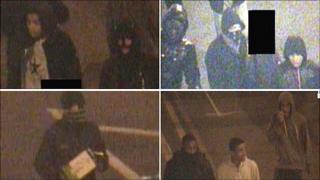 Merseyside Police have released more pictures of some of those thought to be involved in the rioting in Liverpool.
The CCTV stills taken from the south of the city show several youths officers would like to talk to in connection with the violence.
The area remained calm through the night after the "unprecedented violence" in places on Monday and Tuesday, police said.
A total of 61 people have been charged with incidents of disorder.
Almost half of the suspects are youths aged 17 or under, the force said.
Fire engines damaged
Police said they would maintain a "strong" presence on the streets this weekend.
During the night 16 men and one woman were arrested, including one for an offence of violent disorder relating to the disturbances at the beginning of the week.
The other alleged offences include theft, possession of an offensive weapon and going equipped for theft.
On Tuesday night about 200 youths roamed the streets from Toxteth to Wavertree, centring on Smithdown Road.
Gangs of youths set fire to cars and there were reports of many throwing missiles at the emergency services.
Four fire engines were taken out of service after they were damaged.
The violence also spread to Wirral on Tuesday when cars and wheelie bins were set alight and shop windows were smashed and gangs clashed with riot police.