Bikers Fogarty and Whitham bring chat show to island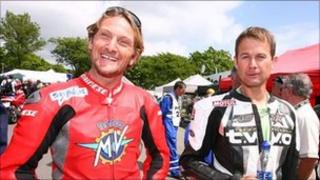 Bikers Carl Fogarty and James Whitham are to appear in the Manx Grand Prix to present their chat show Givin' It Gas.
The pair's theatre show will be at the TT Grandstand's VIP Club on 31 August.
Fogarty is a three-time winner of the Isle of Man TT. Whitman's results range from a place on the podium to not finishing the course.
Fogarty said: "I'm really looking forward to coming back to the island during the Manx Grand Prix, where it all really began for me,"
"There's always a good bit of banter between us but it's also a opportunity for fans to say hello and ask their questions."