Residents 'abandoned' over homes plan in Liverpool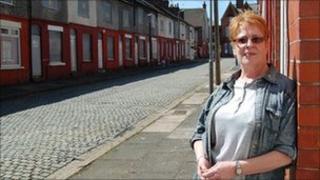 Residents in a road in Liverpool say they "feel abandoned" by the city council after the scrapping of a scheme to build new homes.
Neighbours Patricia Harrison and Linda Madagen were set to move into new properties and have their homes in Edge Hill demolished as part of a housing renewal programme.
But they say they have been left stranded living next to empty houses in Arnside Road after funding cuts halted the plans.
'Lovely community'
Ms Madagen, who bought her house 10 years ago, said: "It is been awful because I've lived facing a boarded house for seven years.
"For them to finally come along and say they're not bringing them down and they've just held back from doing anything to them, it's sad."
Almost all the residents on the road have left to move into new homes as part of the government's Housing Market Renewal Scheme.
Ms Madagen said: "We had a lovely community when everyone was here, but now the street is in a mess."
"I got out the other day and cleaned all the weeds, otherwise I'm living with 6ft weeds in my window facing me.
"I feel totally let down by the council. I've had enough."
People started to move out of the area as the developments around Wavertree Road and Edge Lane got under way. But the funding was ended before work started on Arnside Road.
Developer search
Councillor Ann O'Byrne said the council did not have the money to continued the scheme as planned.
Ms O'Bryne said: "We are in the process of searching for a private developer to invest in these properties in Arnside Road to bring them back in to use following the loss of the Housing Market Renewal Scheme.
"We are doing the best that we can in the situation after the withdrawal of £128 million."
Ms Harrison said: "We don't know if we're coming or going.
"We've had no information coming from anywhere, but I want to stay here and let these houses be done up properly."
She said she was very upset about the state of the area.
"The weeds are growing up like trees and they are going to start interfering with the houses if the roots come through and we don't want that," she said.
"I'd like them to take responsibility for the street, the way it used to be. It was a lovely street and they've just let it go.
"I really want to stay. This is my home, so as long as they can do them up I'd be happy."
The council has applied for a government transition fund of £10 million to help areas affected by the funding cuts.
Ms O'Bryne said: "We need £200 million to complete the works across the city and the £10million we have applied for will help but in nowhere near enough to complete [the scheme].
"We are looking for private sector developers to come in and we are expecting £14 million to be brought in to redevelop 177 properties within those communities.
"We will be looking for the successful organisations to be in there by mid February working on those properties."