New Museum of Liverpool gets quarter of a million visitors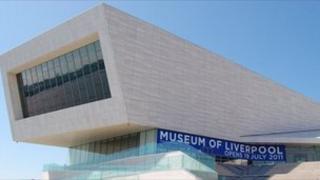 A quarter of a million people have visited the new Museum of Liverpool since it opened four weeks ago.
The £72m museum, which explores the history of the city and its residents, opened on the Pier Head on 19 July.
Bosses had predicted that 78,000 people would visit the museum, which is free, in the first month.
Director Janet Dugdale said the visitor numbers were "staggering" and that she was "thrilled with the success of the new museum".
She added: "There is a real buzz of excitement in the museum and it's so nice to see so many people enjoying themselves."
The museum, with four main galleries and several smaller ones, is opening in two phases.
Three of the four main galleries - Wondrous Place, the People's Republic and Global City - opened on 19 July. Little Liverpool, a gallery for children aged six and under, has also opened.
Among the exhibits are the stage where John Lennon and Paul McCartney first met in 1957, the first Ford Anglia off Ford's Halewood production line in 1963, and a 10m (30ft) long Chinese Ceremonial Dragon.
The second phase is due to open this winter.