Liverpool urged to make Anfield decision by MP Shapps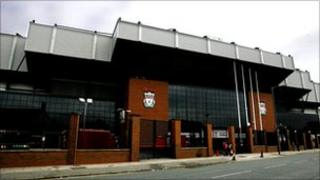 Housing Minister Grant Shapps has called on Liverpool to make a decision on their stadium plans to prevent continuing uncertainty in the area.
Club owner Fenway Sports Group is deciding on whether to build a new stadium or revamp Anfield.
Its preferred option is to refurbish Anfield, but a new build on Stanley Park could help regenerate the area.
"People in Anfield need certainty and a definite decision on the future of their neighbourhood," Mr Shapps said.
"In the interests of the wider community, the club needs to make a swift decision on whether they plan to build a new stadium or stay where they are - either way the residents around Anfield deserve to know.
He added: "The delay is causing unnecessary uncertainty for the community.
"Local residents are living in limbo.
"The council has already asked for extra time for the lease on Stanley Park by six months to allow the club time to explore all options, but the quicker Liverpool FC makes a decision, the more options they have."
The club are still assessing both options and have not put a timescale on a decision.