Slavery Remembrance Day: Liverpool walk planned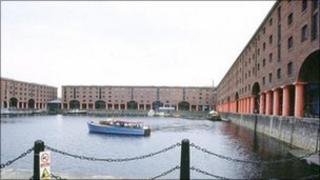 Liverpool's links with the slave trade will be marked in a city centre walk ahead of Slavery Remembrance Day.
The Walk of Remembrance on Monday, 22 August visits locations linked with the trade, including the site of Liverpool's first dock.
On Slavery Remembrance Day, 23 August, a traditional African libation ceremony will be held at the Pier Master's House on the Albert Dock.
Much of Liverpool's 18th Century wealth came from the slave trade.
Liverpool ships transported about half of the 3 million Africans taken across the Atlantic by British slavers.
The city has held events to commemorate Slavery Remembrance Day since 1999.
The libation ceremony is a traditional act of reflection and tribute to African ancestry by the pouring of liquid onto the ground.
The two day event, including a memorial lecture by Dr Maulana Karenga, Professor of Africana Studies at California State University, is led by Liverpool's International Slavery Museum.