Signed Beatles single Please Please Me to be auctioned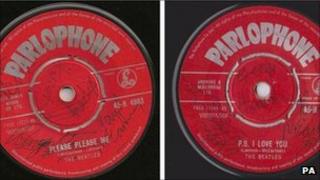 A signed copy of the Beatles' hit single Please Please Me is expected to sell at a Liverpool auction over the weekend for up to £7,000.
The seven-inch record, signed on both sides by John, Paul, George and Ringo, will be sold at the Liverpool Institute for the Performing Arts on Saturday.
Other lots in the annual Beatles Convention sale include photographs of the Fab Four at the Sunderland Empire.
A cap belonging to John Lennon is expected to fetch up to £4,000.
'Lots of excitement'
Among other unusual items is a compulsory purchase order issued for the Cavern Club before it was filled in with concrete in the early 1970s, and a piece of its stage which is estimated to reach up to £1,800.
The 322-lot auction also features a telegram addressed to "Mr G Starkey" sent by comedy film star Peter Sellers to Ringo Starr on August 21 1968 ahead of a visit to his home.
Stephen Bailey, manager of the Liverpool Beatles Shop, which is staging the sale, said: "The memorabilia has just kept coming in and there's a lot of excitement building.
"We have several signed singles this year and they always attract a lot of interest from fans and collectors.
"But it's always the more unusual items which capture the imagination of the buyers."