Cammell Laird shipyard life brought to stage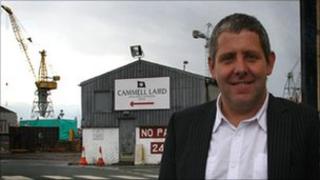 The cranes have dominated the Wirral coastline for generations.
Fathers and sons working alongside each other on a job which would become a way of life.
For 150 years Cammell Laird shipyard has been at the heart of Birkenhead, employing thousands of local people building submarines and warships - among them such famous vessels as HMS Ark Royal.
The legacy of the shipbuilders' yard and its effect on local families is the focus of Brian McCann's play Down Our Street, being performed at Unity Theatre in Liverpool.
"Everyone's got a connection to the yard," explained the Birkenhead playwright.
"It is still held with such affection with local people, there is a hundred plays that could be written about it."
McCann decided to tell the story of the shipyard through the eyes of the people who live on a single street in Birkenhead.
"No-one ever called it Laird's - it was always The Yard," he said.
"Down Our Street looks at the life of the yard itself and how it affected life on the street.
"The story takes you through the 150-year history. Through the wars, the jubilee - how the yard was affected by the world and how the yard affected the people."
'Legends of Laird's'
As a student McCann worked as a barman in various Birkenhead pubs and spent a lot of time talking to Cammell Laird workers.
"Working down the bars in Birkenhead I heard all the stories," he said.
"Like climbing over the wall once you've clocked in, go and have a drink and clock out again.
"All that is the legend of Cammell Laird around Birkenhead and I thought it was wonderful to hear people's stories."
He decided to write a play about the shipyard after setting up his Birkenhead company Active Drama.
"I wanted to bring non-theatregoers to the theatre. I wanted to created a piece of community theatre for local people to come and laugh and come and cry.
"I thought, 'what subject matter would bring people to the theatre?' and it was obvious.
"I love to create theatre which is relevant to people and in Merseyside Cammell Laird is a big part of people's lives."
Down Our Street runs at the Unity Theatre from Thursday to Saturday.