Hillsborough papers release pledge by government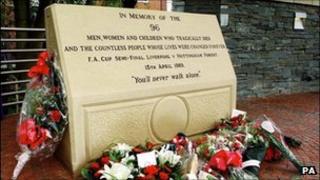 The government has reiterated its "commitment to full transparency" over the release of Cabinet papers relating to the Hillsborough disaster.
An online petition requesting their release has attracted more than 100,000 signatures, enough for a parliamentary debate to be considered.
But the government has insisted the papers will first be released to the panel which is examining the disaster.
Labour MP Andy Burnham said he would push for a parliamentary debate.
In a statement, the Cabinet Office said: "The government has confirmed its commitment to full transparency about the Hillsborough disaster through full public disclosure.
"All papers had previously been shared with the Hillsborough Independent Panel.
"The government is happy for all the papers to be released as soon as the panel so decides, in consultation with the families.
"We expect them to be shared with the Hillsborough families first and then to the wider public."
'Push things to a vote'
Mr Burnham, who called for full disclosure of the documents in 2009, said he welcomed the "general tone of the statement" but remained cautious.
He added: "I will do everything I can together with the other Merseyside MPs to ensure [a debate] does happen.
"If we don't get the statements we need, we'll hold out and reserve our right to push things to a vote."
The Information Commissioner, Christopher Graham, ruled in July that the papers should be published.
However, the government is appealing against that ruling, and said it wanted them to be released to the panel first rather than all at once to the public.
It is understood the panel may put forward its recommendations on which papers should be released as early as the spring of next year.