Made in Liverpool Mathew Street stage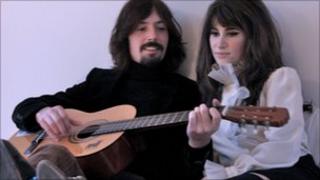 The annual Mathew Street Festival returns this Bank Holiday weekend with seven stages offering free live music across the city.
New and original bands will be performing at a specially constructed stage at Williamson Square from 12:00 BST - 18:00 BST on Sunday, 28 and Monday, 29 August.
This year the Made in Liverpool stage will reflect some of the great home-grown talent from the city.
By mixing emerging local bands with a selection of established names it promises to be one of the highlights of the event.
Emerging bands
Come and join me and the bands at the weekend, here are some of the highlights:
On Sunday we begin with We The Undersigned, aka WtU. They are a Liverpool based collective that play a high energy mix of Reggae, Rock, Funk, Jazz and Hip Hop, topped with a four piece brass section.
Lunchtime on Sunday, local lads Fly With Vampires will be entertaining their rapidly growing fan base with their melody-driven power pop.
This is followed by an afternoon of established names including China Crisis, Amsterdam and John Head from Shack, finishing with a set by 1960s group The Merseybeats.
Monday kicks off with a band I recently had in session called Man Get Out. Since then they have played on BBC Radio 2 and recorded a session with Janice Long.
The early part of the afternoon is all about emerging bands from the city with a welcome return for Liverpudlian psychers The Wicked Whispers, Wirral band The Red Suns and recent signing to Geffen Records, the country blues influenced Delta Maid.
There will also be sets from Supercharge, Super Cannes and Tommy Scott and the Red Scare who will be playing tracks from his days in Space and the latest material with his new outfit.
The Big House featuring Paul Molloy (Zutons) and Candie Payne, will be bringing the day to an evocative close with their delicious blend of country, gleaming folk and west coast rock - not to be missed. The full running times are below;
Sunday at Williamson Square: 12:00 BST - 18:00 BST
12:00 to 12:15 WE, THE UNDERSIGNED aka WtU
12:30 to 12:45 SUPER CANNES
13:00 to 13:15 FLY WITH VAMPIRES
13:30 to 14:00 AMSTERDAM
14:15 to 14:45 JOHN HEAD
15:00 to 15:30 UP AND RUNNING
15:45 to 16:15 JOHN O'CONNELL
16:30 to 17:00 CHINA CRISIS
17:15 to 17:50 THE MERSEYBEATS
Monday at Williamson Square: 12:00 BST - 18:00 BST
12:00 to 12:15 MAN GET OUT
12:30 to 12:45 The THESPIANS
13:00 to 13:15 THE WICKED WHISPERS
13:30 to 14:10 THE RED SUNS
14:25 to 15:05 SUPERCHARGE
15:20 to 16:00 DELTA MAID
16:15 to 17:00 TOMMY SCOTT AND THE RED SCARE
17:15 to 17:45 THE BIG HOUSE