Threatened centre recreates Lennon protest at ex school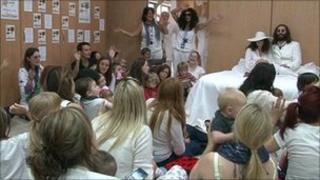 Parents and children from a threatened Sure Start centre have staged a John Lennon style protest at the school he once attended.
They recreated his famous "Bed-In" demo against the Vietnam War, held in Amsterdam and Montreal.
A letter of support was read from Lennon's widow Yoko Ono, who opened the centre at Dovedale Primary, Liverpool, last year.
A council consultation on the threatened centre starts next month.
The centre, one of four in Liverpool threatened with closure because of Liverpool City Council cuts, is based at Dovedale Primary School and is used by more than 2,500 children, parents and carers.
The centres, set up by the last government in the late 90s, aim to support mothers and children by offering activities and advice.
The message from Yoko said the Liverpool protest was "very much in the spirit of the Bed-In from John and I."
She added: "I was very sad to hear about the closure of the centre because I know much it is valued in the community."
Angela Regan, from the centre, said: "Parents can come here and get support as well as meeting other parents."
She added: "We're building communities here."
Liverpool council spokesman said formal consultation will start in September and said all views expressed will be taken into account when making a final decision.
John Lennon and his bride Yoko spent a whole week in bed in 1969 in the Amsterdam Hilton in a protest for world peace.
The incident is immortalised in the ex-Beatle's song The Ballad of John and Yoko.