Home town honours Pete Postlethwaite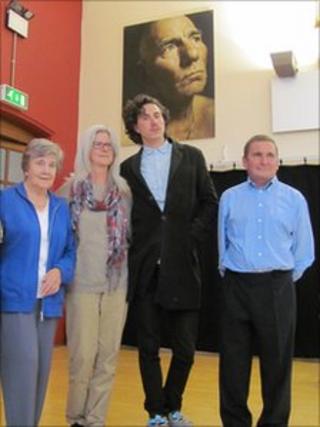 The family of the late actor Pete Postlethwaite have attended a ceremony to name a drama studio in his honour.
The star's widow Jacqueline Morrish and son William were among the family members at the Postlethwaite Studio in the Pyramid Arts Centre in Warrington.
Mrs Morrish said: "I understand why he means so much to everybody in Warrington and I think it's lovely."
The Brassed Off actor was born and grew up in the Cheshire town. He died of cancer in January at the age of 64.
Postlethwaite was nominated for an Oscar in 1993 for his role in In the Name of the Father and is also remembered for films including The Usual Suspects and Jurassic Park.
Postlethwaite's cousin Joe Lawless, a headteacher, recalled how the actor would take a string of co-stars to his mother's house in Warrington for Sunday lunch because he was proud of his roots in the town.
Mr Lawless said: "I could give you a roll of honour of all the people who had Pete's mum's Sunday roast."
He added: "He was determined, he was articulate, he was driven for perfection but he was also a very affectionate, a very loving, a very polite and kind person."
The studio in the council-run arts centre is used for training, therapy and rehearsals in the arts. Warrington Borough Council leader Terry O'Neill said it would help young performers.
"If we can put something in place where we can remember Pete and give a chance for local kids to do what Pete did, they may go on to great things," he said.