Liverpool Sure Start nurseries closure announced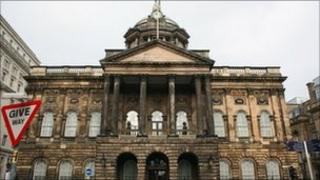 Campaigners have failed in a bid to save three Sure Start nurseries in Liverpool from being shut.
The nurseries in Belle Vale, Croxteth and County nursery in Walton had been temporarily reprieved.
Following a review Liverpool City Council's cabinet decided they will now close in November.
A nursery in Knotty Ash, also threatened with closure, will remain open until June 2012 when its future will be reviewed.
'Worked flat out'
The closures were part of the council's budget savings of £91m for the financial year.
Jane Corbett, cabinet member for children's services said: "We worked flat out to see if we could turn this around in some shape or form but we are between a rock and a hard place.
"We are now starting to look at the £50 to £60 million cuts for next year. We are down to the bone now."
Lisa Dempster who campaigned to keep the Knotty Ash nursery open said: "It's good news and bad news.
"We're pleased we're going to be given the chance to prove ourselves but devastated for the other three nurseries.
"When the news broke a lot of the parents using the nurseries moved their children out, but in Knotty Ash we refused to move and decided we would stay and fight.
"We managed to keep our occupancy levels quite high."
On Thursday parents and children staged a John Lennon style bed-in protest at a children's centre threatened with closure in the former Beatle's school Dovedale Primary School.
Council consultation on that closure and three others starts in September.