Rhys Jones' football team travel to Northern Ireland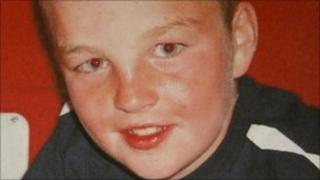 The family and friends of a Merseyside schoolboy shot dead in the street four years ago have taken their anti-gang campaign to Northern Ireland.
Rhys Jones, 11, was shot as he walked home from football practice in Croxteth, Liverpool, in August 2007.
Teammates who played with Rhys at Fir Tree FC will take part in a tournament in Belfast on Saturday.
They will then visit Stormont Castle to promote the "Join a team, not a gang" campaign launched after Rhys's death.
His father, Steve Jones, said his son would have had "a smile as wide as the Mersey" to have taken part in the tournament.
'Missing our boy'
He said: "It's always difficult, anniversaries, his birthday, Christmas and things like that.
"Going back to when we were at the trial, people got sentenced and it was like, oh, they're out in 2011.
"And now we're in 2011 and people are getting released and you still feel cheated.
"You still feel hard done by, by the fact they've been released and we're still missing our little boy. And it really does hurt."
Ian Paisley Jr, MP for North Antrim, travelled from Westminster to meet Rhys's team ahead of the tournament.
He said the competition was designed to promote "community harmony".
He added: "There's young people [in Northern Ireland] who have been through some pretty awful and tragic events, with unlawful killings here as well. And I think they'll have something in common."
Sean Mercer, of Croxteth, was jailed for life in December 2008 for the murder of Rhys.