'Record crowds' at Liverpool's Mathew Street Festival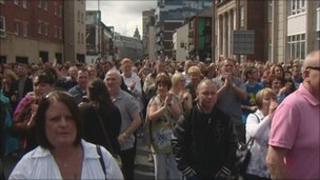 Organisers of Liverpool's Mathew Street Festival believe visitor numbers have exceeded last year's record-breaking figure of 320,000.
They said early indicators showed thousands more had taken part in the 19th festival featuring 100 bands.
Police said most visitors were "very well behaved" but there were 67 arrests on Sunday evening.
Offences included being drunk and disorderly, assault, theft and possession of drugs and weapons.
Merseyside Police said 10 people were arrested up until 18:00 BST on Sunday with the remainder being taken into custody later the evening.
'Good time'
Officers confiscated alcohol from large numbers of young people who were drinking in the street and unable to prove they were at least 18-years-old.
Drinking in public had been temporarily allowed for the duration of the festival.
Supt Simon Irving, said: "The vast majority of yesterday's crowd were very well behaved and simply there to enjoy the music and have a good time.
"However, some people stayed out afterwards, drank too much and got involved in something they ordinarily wouldn't."
Councillor Wendy Simon, cabinet member for culture at Liverpool City Council, said: "It was a great opening day on Sunday with record numbers, which we expect will be repeated on day two.
"The Monday is traditionally even better supported and we think that the Liverpool Number One Stage is going to be a big draw.
"Every number one hit to come out of Merseyside from Hey Jude to How Much Is That Doggy In The Window? is being performed."