West Cheshire College opens new campus at Ellesmere Port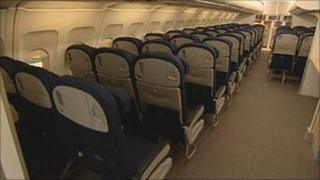 West Cheshire College's new creative and service industries campus in Ellesmere Port is due to open to students.
Together with a technologies campus in Chester that opened in March, the build has cost £65m.
The 19,500 sq m (209,896 sq ft) campus features a replica aircraft cabin for travel and tourism students.
It comes complete with 54 airline seats, oxygen masks, lifejackets, microwaves and refreshment trolleys.
The college does not have classrooms and staff rooms in the traditional sense - instead there are learning areas similar to real working environments.
These include a patient simulator for students on health and social care courses, and briefing rooms to set up emergency scenarios for police cadets.
Principal Sara Mogel said: "It delivers vocational learning in a different way, through real work environments. Everything is about trying to look like work.
"We're hoping to get local people to use all the resources here, but the main important point is that it will raise the aspirations of people, so they can achieve their full potential."
The college opens to students on Monday.