Ex-Triad gangster Kim Goh becomes Methodist minister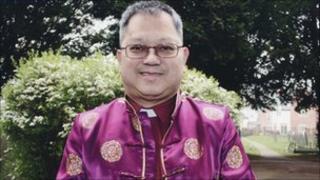 A former Triad gangster has taken up a new role as a Methodist minister for churches on Merseyside.
The Reverend Kim Goh, 62, turned to Christianity while serving a prison sentence for violent crimes committed when he was a Triad gangster.
He was jailed for four years for extortion and causing actual bodily harm and grievous bodily harm.
Mr Goh has been a Methodist minister for 11 years and now serves churches in Maghull, Fazakerley and Old Roan.
He said that when he was a member of the Chinese criminal organisation in the 1980s, he once chased people around Piccadilly Circus in central London with an ice pick and while in the US played Russian roulette.
Mr Goh said: "I had about 257 charges - if it was a consecutive sentence I would still be in prison."
'Claim you're Christian'
Mr Goh added: "While I was on remand in Hull Prison I volunteered to do different things so I could get out of the prison cell.
"I asked, 'what should you do if you want to get out more?' Somebody said 'Claim you're Christian and you can go to the chapel on Sunday morning.'
"I went to the chapel and I followed what everyone did, standing up, sitting down and singing.
"At the end I walked out, and as I was going out I saw some bookshelves with books so I asked the vicar if I could borrow some books.
"He tried to hurry me so I threw the book at him and stormed out swearing.
"I swore at the bishop, the archbishop, the Pope and then God.
"And then God spoke to me, and it freaked me out, and I thought I'd better not mess with this one, this one is real."
'You die tomorrow'
Born in Singapore, Mr Goh moved to the UK and rose through the Triads to become a deputy godfather, dealing in illegal gambling and pirate videos.
His new role will see him based at Maghull Methodist Church, but he is also responsible for other Methodist churches in north Liverpool.
Looking back on his past, Mr Goh said: "Sometimes you do foolish things when you're young.
"If life doesn't mean anything to you and you don't care about your own life, what does it matter?
"If you're not afraid of death any more, what is there to be afraid of?
"As far as I was concerned at the time, life was just to be lived, enjoy today and you die tomorrow, so who cares?"