Petition over Whiston and St Helens Hospitals handed in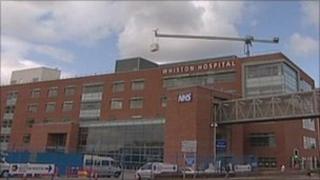 Campaigners against plans to privatise two Merseyside hospitals are set to hand a petition to Downing Street.
More than 33,000 people have signed the petition opposed to the idea of a private company taking over Whiston and St Helens hospitals.
A delegation from the Save Whiston and St Helens Hospitals will present the petition to Number 10 on Tuesday.
The group was set up after Labour MP Dave Watts said he had seen documents on Whiston Hospital being privatised.
St Helens and Knowsley Hospital NHS Trust has said it is not on the agenda.
'Preserve the hospital'
Whiston Hospital recently underwent a £250m rebuild funded via a private finance initiative (PFI).
Mr Watts, MP for St Helens, said he had seen documents listing three options to balance the books at the hospital.
These were a £20m cash injection, merging with a neighbouring hospital and transferring to a private firm.
Campaigner Margaret Pritchard said the government had to find the money to fund the hospitals.
"We own the NHS, it is not the government's to give away to privatisation," she said.
"We've got to preserve this and people have got to get off their backsides to try to preserve it."
She added: "I go back to when I was a kid when your mother had to have the money ready for when she was having a baby for the midwife to come.
"We haven't got any of that now and I don't want to see that come back at all.
"I owe it to my children to preserve what my parents fought for."
A St Helens and Knowsley Hospital NHS Trust spokeswoman said: "The government requires all trusts to achieve Foundation Trust status by 2014.
"All non Foundation Trusts are required to agree a trajectory with the Department of Health.
"The trust board is continuing to work to achieve this and its plans do not include developing a relationship with the private sector."