Ian Fraser VC: Signs theft is despicable say police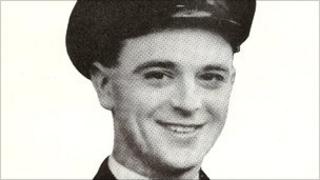 The theft of plaques honouring a Wirral man who received the highest military award for bravery is a despicable act, police have said.
Part of the seafront at New Brighton was named last year after Lt Cdr Ian Fraser, who died in 2008, aged 88.
He was awarded the Victoria Cross for commanding a submarine in a successful attack on a Japanese warship near Singapore on 31 July 1945.
The metal war memorial plaques were stolen from Kings Parade.
Insp Mike Barret said: "This is a despicable act and it is very dismaying to see that someone has stolen plaques commemorating a Wirral war hero.
"In addition to his military actions Mr Fraser made an exceptional contribution to the public life of his community."
Family's sadness
Mr Fraser's daughter Nickie Mackay said her family were "very disappointed and saddened" by the theft.
She added: "We've been told that they will be replaced along with a citation to commemorate Ian Fraser's heroism.
"We just hope that the signs and plaques will be respected for all to enjoy when walking along the promenade, as we feel it is a great honour to have a walk named after this local hero."
Mr Fraser, who later became a magistrate in Wirral, was awarded the freedom of the borough in May 1993.