It's Liverpool marketing campaign launched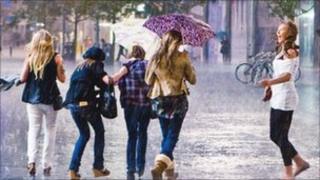 Public and private sector companies in Liverpool are joining together in a bid to change the image of the city.
The It's Liverpool campaign will encourage organisations to challenge outdated perceptions of the city.
Backers include Liverpool One owners Grosvenor and Peel Holdings, who run Liverpool John Lennon Airport.
Everton and Liverpool football clubs and the city's universities are also taking part.
Led by economic development company Liverpool Vision the campaign is part of a long term strategy to increase investment in the city and move away from the reputation Liverpool developed in the 1980s when the city's manufacturing base declined leading to high levels of unemployment and a lack of investment.
'Unique possibilities'
Former Tesco chief executive, Sir Terry Leahy, who was born in the city, said: "A lot still needs to be done, especially in changing perceptions many people hold about the city, which is no longer locked in its past but fiercely ambitious about its future and ensuring its growing prosperity."
Joe Anderson, leader of Labour-run Liverpool City Council, said: "Liverpool's dramatic transformation demonstrates the unique possibilities true collaborations can bring, as we have already proved through successes over the past few years at the World Expo 2010 in Shanghai and as the European Capital of Culture in 2008.
"Liverpool is now seen by the world with fresh eyes.
"By uniting and speaking with one voice for Liverpool, we can showcase to the world all that is wonderful about our great city, and I hope that everyone will join us in being part of this effort."
The city has already opened an embassy in London to attract businesses to the area.