Beatles' yellow submarine stolen from Liverpool church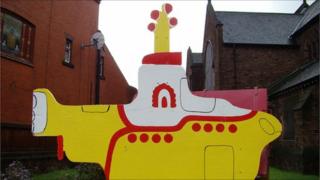 A model of the Beatles' yellow submarine has been stolen from outside the Liverpool church where Sir Paul McCartney used to be a choirboy.
St Barnabas Church, in Penny Lane, hosts a weekend to celebrate its connection with the band each year.
It places a 6ft (1.8m) by 5ft (1.5m) hardboard cut-out of a yellow and red submarine in the grounds of the church, made by a member of the congregation.
It was discovered stolen on 28 August. Police said they were investigating.
A spokesman for the force said officers were trying to establish whether there was any CCTV footage of the theft.
Fan blamed
The Reverend Alan Kennedy said: "The church is opened up each year for a Beatles weekend so people can see where Paul McCartney sang.
"We get literally hundreds of people."
Mr Kennedy said the Beatles performed in the church hall in the early 1960s. McCartney's brother, Mike, also married there, he said.
He said he was disappointed the model, which was staked into the ground, was stolen.
"It will be a fan and he will have wanted it in his house," he said.
Mr Kennedy said the Penny Lane sign, near the church, was stolen so frequently in the late 1960s that the council had to paint the street name on the wall.