Everton fans stage demonstration over 'lack of investment'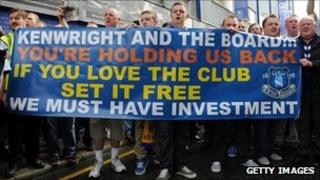 Everton fans have staged a protest over what they claim is a lack of investment under chairman Bill Kenwright.
Hundreds of supporters gathered outside Goodison Park ahead of the club's Premier League tie against Aston Villa.
Everton sold Mikel Arteta and Jermaine Beckford for a total of £14m in the summer transfer window but made only three loan signings over the summer.
Mr Kenwright has said he wanted to bring new investors to the club and that it could not borrow more money.
Fans group the Blue Union has said it does not want to force Mr Kenwright to leave but it wants the sale of the club to be taken out of his control.
Dave Kelly, of the group, said: "Bill Kenwright and David Moyes quite unequivocally said that we want to make signings early and we want to hit the ground running.
"Unfortunately that hasn't materialised."
'Become heavyweights'
He said the fact hundreds of people had turned out ahead of the game showed the strength of feeling among many fans.
"We have got no ill-feeling with any individual whatsoever or any part of the club," he said.
"So much so, we went to the training ground yesterday and personally hand delivered letters to David Moyes and all the players to say that we support the team and the management at the team level unequivocally."
He said the Blue Union wanted Everton's board to appoint a professional, autonomous body to look for potential investors for the club.
"We are not asking the club to spend money it hasn't got," he added.
"We want it to live within its means."
But he said he did not want it to be regarded as "plucky little Everton" but as "heavyweights" of English football.
A spokesman for the club declined to comment on the demonstration.