Brookside star directs Wilfred Owen musical drama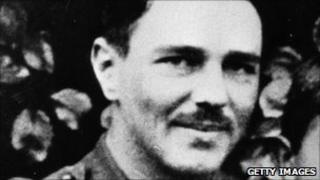 A musical about war poet Wilfred Owen will be directed and narrated by former Brookside star Dean Sullivan.
Bullets and Daffodils at the Lyceum Theatre in Port Sunlight, Wirral, tells the life story of the World War I poet through the letters he wrote to his family.
Dean Sullivan, best known for his role as Jimmy Corkhill in Brookside, said the play uses music written by local songwriter Dean Johnson to show the uplifting side to Owen's poetry.
Mr Sullivan said: "Usually people approach Wilfred Owen as being sombre and quite depressing because he is talking about the horrors of war.
"But with Dean Johnson adding music to it, it gives the poems a completely different feel."
The Owen family moved to Birkenhead from their home in Shropshire after falling on hard times.
They were forced to sell their luxury home in Oswestry where Wilfred was born after the death of his grandfather revealed great debts on the estate.
His father took a job in Birkenhead and moved the family to a terraced house in the town in 1900.
"It was a big change for the family and happened very quickly," said Dean Sullivan.
"They went from living in luxury in the country to coming to industrious Birkenhead to a terraced house.
"But Birkenhead was an amazing place in 1900 when he got there. It was a boom town and he was able to absorb the different cultures from the docks and the theatres that were there then."
Owen was educated locally at Birkenhead Institute and enlisted in the British Army in 1915.
Notice of death
In 1917 he served on the front line in France and began to write poems and letters about his experiences in the trenches.
"He wrote hundreds of letters to his mother Susan," Mr Sullivan said.
"Bullets and Daffodils tells Owen's story through the letters he wrote home to his parents in Birkenhead.
"Like most great figures people are interested in his personal life which can overshadow his work, but this play is about making people aware of the influence and importance of his poetry."
Wilfred Owen was killed trying to cross a canal a week before the end of the war in 1918. His parents received written notice of his death on the day the armistice was declared.
Bullets and Daffodils takes place at the Lyceum Port Sunlight, Wirral, on Saturday 24 September 2011.