Beatles' yellow submarine stolen from Liverpool church is found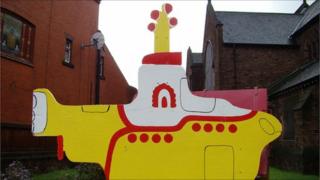 A model of the Beatles' yellow submarine has been recovered, two weeks after it was stolen from outside a church on Penny Lane in Liverpool.
It was taken from St Barnabas Church, where Sir Paul McCartney used to be a choirboy, on 28 August.
The hardboard cut-out, 6ft (1.8m) by 5ft (1.5m), was on show during an annual celebration of the church's connection with the band.
It was returned by police after being found on Sinclair Drive on Sunday.