Mersey Banks cross-river constituency proposed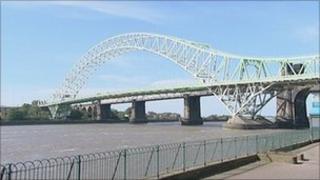 Merseyside could lose two parliamentary seats under proposals put forward by the Boundary Commission for England.
A new cross-river Mersey Banks constituency would be created around Bromborough and Eastham in the south and areas of Halton north of the river.
Liverpool MPs Luciana Berger and Maria Eagle could face a battle over a single seat as the constituency areas for south Liverpool are changed.
In Wirral, the number of seats would be cut from four to three.
The commission said that while it had "reservations" about proposing a cross-river constituency, it "allowed for the most satisfactory distribution of constituencies across the whole area".
Boundaries redrawn
The changes are part of government plans to reduce the number of MPs by 50 to 600 by the next general election.
New rules specify that constituencies must have electorates no smaller than 72,810 and no larger than 80,473. This has led to a reduction in the number of seats across Merseyside and Cheshire.
Proposals for a cross-river constituency between Liverpool and Birkenhead were rejected, instead both Birkenhead and Wallasey seats remain, with slightly redrawn boundaries, while many parts of the current Wirral South and Wirral West constituencies would be contained in a new Hoylake and Neston constituency.
Under the proposals, Liverpool Walton, currently held by Labour MP Steve Rotheram, ceases to exist, replaced in part by a new Liverpool North seat.
Liverpool Riverside, held by Labour's Louise Ellman, would be extended inland to take in Everton, Kensington and Fairfield.
The cumulative changes across the Liverpool area mean that while the Liverpool Wavertree seat currently represented by Labour's Luciana Berger would remain, it would be redrawn to contain much of the current Garston and Halewood seat represented by fellow Labour MP Maria Eagle.
Luciana Berger said: '"The real issue for the people of Liverpool is not which MP will lose out, but that their representation in Parliament will be reduced by a fifth.
"My office assists over 600 constituents a month. These are often people who come to their MP because they need help which they cannot get anywhere else.
"By reducing the number of MPs the government is cutting support the people of Liverpool deserve."
Further north, the Southport constituency would be extended to include the western section of Formby while eastern Formby would be included in a proposed Maghull constituency, including parts of Kirkby.
Only two constituencies in Merseyside, St Helens North and St Helens South and Whiston, are left unchanged.