Huyton flood: Work to refurbish flood-prone pipes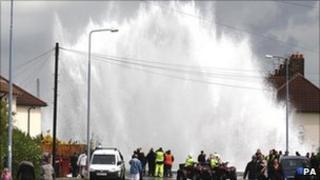 Multi-million pound repairs have started on Victorian water pipes which burst earlier this year, flooding 60 homes and businesses in Liverpool.
The water main on Liverpool Road in Huyton burst in July, sending a 12m (40ft) plume of water into the air.
Engineers started work this week to inspect and renew joints on a 4km (2.5 mile) length of the pipe along Liverpool Road and connecting streets.
United Utilities said the work would lead to some traffic disruption.
Several roads will have partial closures, including Liverpool Road and Huyton House Lane.
'Peace of mind'
The first phase is expected to last until Christmas.
A second phase will start in January, when engineers will be installing a new plastic pipe within the original cast iron main.
The work is expected to take most of the year to complete but United Utilities said full road closures were not necessary.
The flooding, on 18 July, led to scores of homes and businesses around Lincomb Road and Liverpool Road being evacuated.
More than 200 properties were affected. Many had to move out of their homes while repair work was carried out, but United Utilities said most were expected to be back by the end of September.
Stuart Atkinson, United Utilities' network maintenance manager, said: "This engineering work is about giving residents the peace of mind they deserve.
"Residents are now starting to move back into their homes, and the community is recovering, but people want reassurance that this problem won't happen again.
"That's why our engineers will have a continual presence in the area until at least the end of 2012, while these pipes are overhauled.
"By its very nature, work of this scale will inevitably cause some disruption, but we are doing everything we can to minimise inconvenience, and to keep traffic flowing on Liverpool Road and surrounding streets."