Guardsman Christopher Davies died in colleague's arms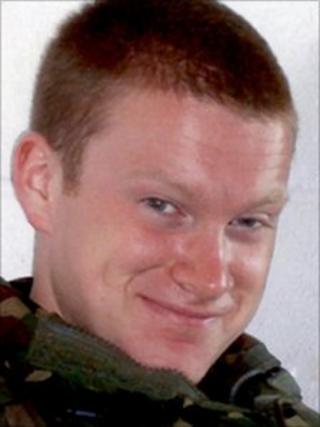 A soldier has told how a colleague died in his arms after they were ambushed by Taliban insurgents while on patrol in Afghanistan.
Guardsman Christopher Davies, 22, of St Helens, Merseyside, was shot while on duty in Nahr-e Saraj, Helmand Province.
He suffered a bullet wound to his chest and died when he was targeted by enemy fire on 17 November last year.
Irish Guardsman Lee Collins told the inquest at St Helens Town Hall that he never left his side.
Coroner Christopher Sumner recorded a verdict that Guardsman Davies was unlawfully killed while on active service.
The inquest heard how the soldiers had taken up a fixed position watching over colleagues who were meeting Afghan locals as part of a relationship-building exercise.
'In shock'
They were about to move on when about four or five insurgents opened fire from positions around them.
Guardsman Davies was struck by a bullet, in the right under arm, which travelled through his side and caused massive heart injuries and bleeding.
Guardsman Collins told the hearing: "I looked up to see a couple of people get hit.
"Chris wasn't in pain. He told me he was in shock. He looked at me calmly and slowly passed away.
"I placed him on the ground and pulled him under cover.
"It was obvious he had passed. I held him and shouted for the medic and did what I could."
Guardsman Davies served in the same battalion as his brother, John, and had a daughter, Lucy, six.
The inquest heard how the surviving soldiers held position under heavy gunfire for about 25 minutes as the dead and injured were rescued by a Chinook helicopter supported by an Apache attack craft.
The Apache's arrival was able to suppress the enemy position as the casualties were taken aboard the Chinook.
Guardsman Davies was flown to Camp Bastion where he was pronounced dead.
Heroics praised
Forensic examination of Guardsman Davies's body armour showed the fatal bullet passed through a gap in the armour at his armpit.
The hearing was told the gap was there to allow soldiers breathing space and room for movement.
The coroner praised the heroics of the soldiers.
After the hearing, the soldier's girlfriend Emma Johnson, 20, spoke of her pride.
She said: "It was difficult to listen to Lee's evidence, but it's a relief for me that he wasn't alone when he died."
She said no words could describe her gratitude to Guardsman Collins, but she just wanted "to go over and give him a hug".