Liverpool schools 'may get £100m rebuild'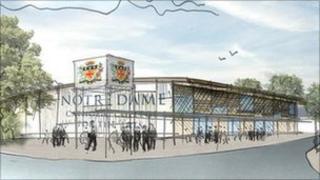 Plans have been revealed by Liverpool City Council to spend £100m on eight schools in the city to replace funding lost by the ending of the Building Schools for the Future programme.
Liverpool was earmarked for £350m of investment under the programme, which was cancelled in 2010.
The council said it was planning new designs for three of the schools.
It said each would be based in a "large exterior shell", which would allow the schools to change the insides.
The council said the design, called EdVenture, is similar to the construction of airport terminal buildings and has not been used for schools in Europe before.
The three schools which are expected to be built using the new design are Archbishop Beck Catholic High School, St John Bosco Arts College and Notre Dame Catholic College.
Five other schools will either relocate, be partially rebuilt or merge as part of the plans.
'Innovative alternative'
Joe Anderson, leader of Labour-controlled Liverpool City Council said: "When the government axed our Building Schools for the Future programme, we were determined to find an alternative way forward to make sure our youngsters get the best possible start in life.
"We have addressed some of the key concerns of government around the cost of Building Schools for the Future by coming up with an innovative alternative for constructing schools which gives huge flexibility at a much lower cost.
"We believe that by working with all of the possible partners such as schools, the dioceses and private developers, together with the sale of sites we can deliver Phase One of the programme."
The council said it planned to ask the government for funding for a second phase of the programme for investment in further schools.